About Greene's Gunshop

| | |
| --- | --- |
| | Greenes gunshop was started in 1960 by Richard Greene his wife Jackie Greene and their daughter Claudette. Over the years the gunshop was expanded from a small gunsmithing shop to a full fledged retail outlet. The shop itself has gone through several major rebuilds over the years and now it boasts an old western appearance and feel. |
| Richard Greene | |
| In 1985 Greenes gunshop added pistolsmithing with the arrival of Greg Roberts as pistol smith. The store is now run by Jackie Greene, Claudette Greene and Greg Roberts and offers the finest in sales and service specializing in blackpowder cowboy action shooting guns and accessories. Claudette Greene is a graduate of Trinidad State Junior college gunsmithing program. Greg Roberts is a charter member of the American Pistol Smith Guild. Greenes now offers many years of educated firearm experience to serve your needs. | |
| | Claudette, Richard and Jackie |
| | |
| Starting construction on the original gun shop in 1960 | Major improvements |
Richard Greene
Born and Raised in North Carolina Richard was the oldest of 13 children from a sharecroppers family. Richard joined the Navy and was one of a few enlisted pilots known as "The Silver Eagles". He was shot down over Attu during World War II and received the Purple Heart. Richard retired from the Navy and opened Greenes Gunshop in 1960.
The Matriarch Jackie Greene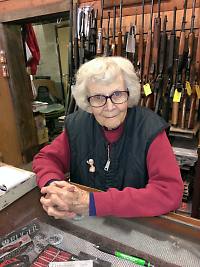 Born and raised in San Francisco California. After graduating high school Jackie volunteered as a candy striper at local hospitals. Jackie and Richard met at a USO dance and married in 1942. Together they spent 21 years traveling with the Navy before retiring and opening Greenes Gunshop in 1960.
Claudette Greene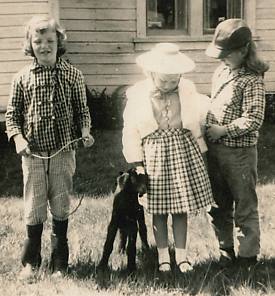 Born and raised in Oak Harbor. Claudette was always involved in the gunshop and upon graduating Oak Harbor High School continued working there. Eventually Claudette combined an interest in art with gunsmithing and studied engraving and scrimshaw. Claudette studied with such engravers and scrimshanders as Neil Hartleg. John Bargeiyh, Tommy Kaye, Karl Wilburn, Sam Welch, Robert Swartley and others.

Greg Roberts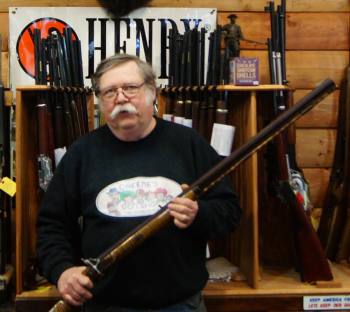 Greg Roberts started his pistolsmithing career in Feb 1971 at the S&W factory, being trained as S&W's 1st out of factory warranty repairman. After leaving the S&W distributor, Greg began specializing in law enforcement repairs.
In 1973 he had the opportunity to work with Don Tedford, designer of the short DA Python action, at the Colt factory. During his visits to the East Coast, he became friends with Dan Wesson and did warranty work for the Wesson factory as well.
During the height of the PPC craze, Greg is proud to have built revolvers for 2 national police champions. He continues to build an occasional PPC gun on a special order basis.
Expanding his firearm related business, Dayton Traister triggers and safeties, and The Hawken Shop®, continuing the production of the Classic Plains Rifle by Sam Hawken, are just a couple of his endeavors.
Refinishing includes traditional bluing and Cerakote. Call for pricing and delivery schedule.